Providing creative solutions through the energy transition
EnQuest's strategic vision is to be the operator of choice for maturing and underdeveloped hydrocarbon assets by focusing on operational excellence, differential capability, value enhancement and financial discipline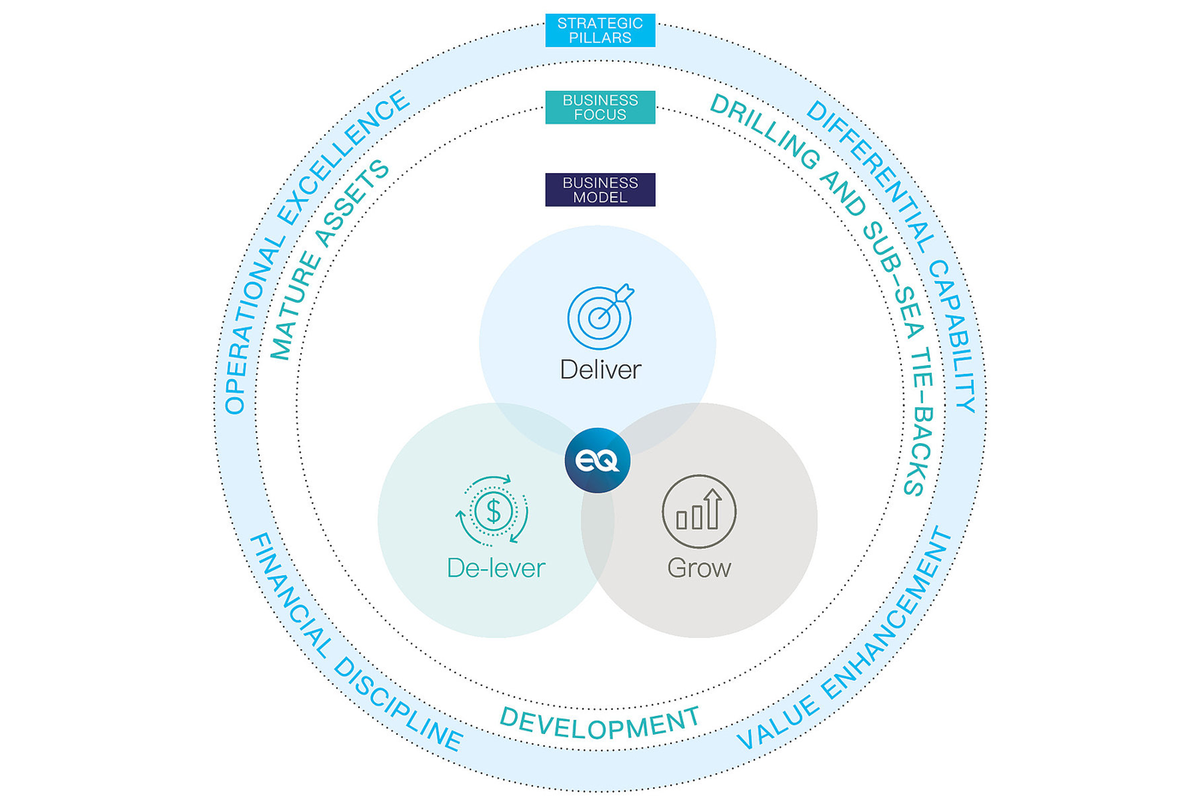 Operational excellence:
This underpins everything we do. With safety a top priority, EnQuest's highly skilled and integrated teams strive to enhance hydrocarbon recovery through focused improvement programmes with no harm to people and with respect to the environment
Value enhancement:
EnQuest employs a cost conscious approach and implements innovative initiatives to add value to its operations. Innovative transaction structures facilitate getting the right assets into the right hands
Differential capability:
EnQuest has the right mix of integrated technical capabilities to select appropriate development and production options, delivering high levels of production efficiency and cost control to realise value from maturing and underdeveloped assets. Achieving asset life extension and maximising economic recovery from those assets will enable future growth
Financial discipline:
We focus on capital allocation that prioritises positive cash flow generative investment and the effective management of EnQuest's capital structure and liquidity
s.172 Statement
The Directors have always had regard for the potential impact of the Group's activities on its various stakeholders. In the majority of cases, information and feedback are provided throughout the year to the Directors by the Group's Executive Directors, senior and functional management and external advisers through a variety of Board reports, presentations and ad hoc correspondence. When appropriate, the Directors may advise further engagement is required, which could potentially be direct engagement by the relevant Director, and/or request additional information to ensure they have a full appreciation of a given situation prior to making any decisions. As such, the Directors are able to assess the impact of business decisions on stakeholders and fulfil their duty to promote the long-term success of the Company.
To read more, please view our Strategic Report here.
Workforce:
| Our employee and contractor workforce is critical to the delivery of SAFE Results and EnQuest's success. As such, we are committed to ensuring EnQuest remains a great place to work. We have a strong set of Values that underpin our way of working and provide a rewarding work environment, with opportunities for growth and learning while contributing to the delivery of our strategy. | |
| --- | --- |

Investors:
Our investors support management in the execution of EnQuest's business strategy, including the provision of capital for management to develop the business in order to deliver returns in a responsible manner.
Partners:
| We collaborate with our joint venture partners, securing their support to deliver our asset plans. We value their contribution to the effective operational and financial management of our assets as we deliver on our business strategy. | |
| --- | --- |
Host governments and regulators:
| EnQuest works closely with the host governments and regulators in the jurisdictions in which it operates. The Group complies with the necessary regulatory requirements, including those related to environmental matters such as reducing emissions, to ensure the Group maintains a positive reputation and licence to operate, enabling the effective delivery of the Group's strategy. | |
| --- | --- |
Suppliers:
| EnQuest relies on its suppliers to provide specialist equipment and services, including skilled manpower, to assist in the delivery of SAFE Results. | |
| --- | --- |
Communities:
| Making a positive contribution and appropriately managing our environmental impact in the communities in which we live and work around the world remains a key part of our activities. Our communities provide a potential source of employees, contractors and support services, and are important in supporting EnQuest's social licence to operate and maintaining a positive reputation. | |
| --- | --- |
Customers:
| Our customers help facilitate the provision of hydrocarbon-related products to meet a variety of consumer demands and, as such, require a reliable supply of hydrocarbons to meet their needs. | |
| --- | --- |