Infrastructure and New Energy
The Group's Infrastructure and New Energy business division is responsible for its onshore Sullom Voe Terminal ('SVT') and a number of offshore pipeline systems as well as supporting the Company's purpose of providing creative solutions through the energy transition.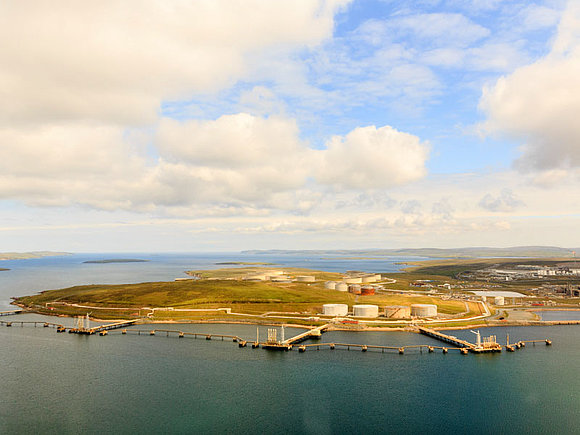 EnQuest's existing operations at the Sullom Voe Terminal are uniquely positioned to act as a springboard for the Group's new energy ambitions.
The Sullom Voe Terminal is one of the largest oil terminals in Europe. It is located at the northern end of the largest of the Shetland Islands, strategically positioned to receive production from both the east and west of Shetland producing areas. The asset is of strategic importance to EnQuest, receiving around one-third of the Group's UK North Sea production.
This business division is responsible for strengthening and extending the longevity of existing operations by maintaining cost efficiency and securing new business as well as delivering our 10% emission reduction target company-wide. EnQuest's Infrastructure and New Energy business will also seek to leverage the existing infrastructure at the terminal to unlock new infrastructure potential and develop renewable energy and decarbonisation opportunities through innovative commercial structures.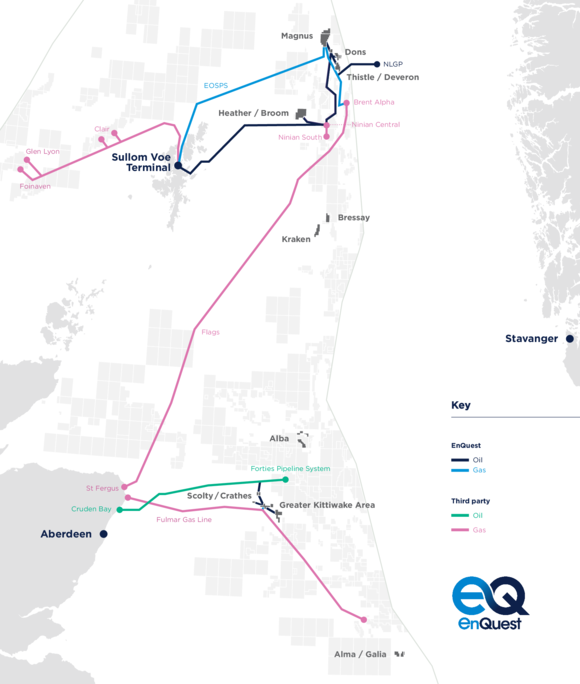 When EnQuest acquired the operating interests in the producing Magnus asset and the onshore Sullom Voe Oil Terminal in Shetland, the associated pipelines were also purchased. These pipelines are of strategic importance.
The Ninian Pipeline System, where EnQuest has an 18.0% share, transports crude oil to SVT, the east of Shetland gas pipeline, which is 100% EnQuest owned, provides the route for west of Shetland gas through the Magnus asset to the Northern Leg Gas Pipeline ('NLGP') and the NLGP, where EnQuest has a 43.9% share, delivers natural gas for onward transportation via the Shell-operated FLAGS pipeline and into the UK National Transmission System.